David Beckham besando a otra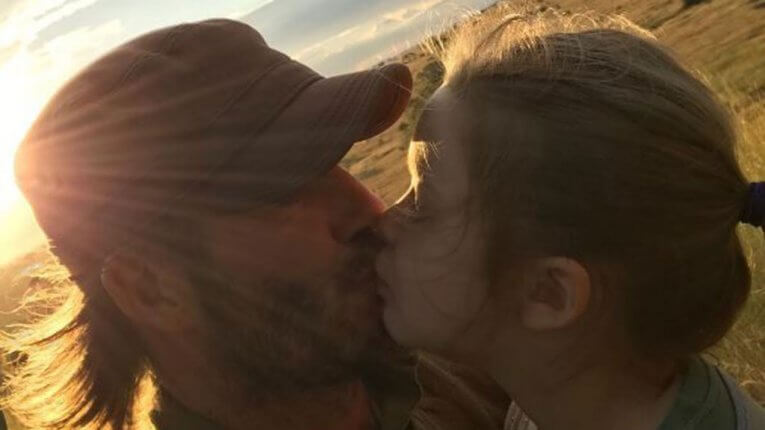 Una foto de Instagram que publico David Beckham, esta causando mucha controversia.
La foto enseña el ex-futbolista besando los labios de su hija, Harper, que tiene 5 años.
La capción decía "Kiss for daddy (heart emoji)".
La foto lleva casi 2 millones de likes y causo un debate entre muchos papas-unos pensando que la imagen era asquerosa y mala educación, como en estos comentarios:
"David, to kiss the lips of your daughter that's wrong", escribió un usuario.
("David, besar los labios de tu hija es malo".)
"To be honest kissing your daughter on the lips is a little weird", escribió otra persona.
("La verdad que besar a tu hija es algo medio raro".)
"Why do this? We don't need to see it."
("¿Porque haces eso? No lo tenemos que ver".)
…mientras otras personas han defendido a Beckham, diciendo que la imagen es bonita y tierna.
"There's something very sick that people see anything other than pure and beautiful love between a parent and child kissing on the lips what a sad world we live in!"
("Hay algo muy enfermo que la gente ve algo distinto del amor puro y hermoso entre un padre y un niño besando en los labios ¡qué triste mundo en el que vivimos"!)
Mucha gente a comentado que ellos también besan sus hijos e/o sus papas los han besado.
No fue la primera vez que los Beckhams han causado controversia sobre los besos. Victoria Beckham también fue criticada después de subir una imagen a Instagram de ella besando su hija.
Ustedes que opinan?
Es malo besar a los hijos en la boca? Hay cierta edad en que ya no se pueden besar?
Por: Becca Merci
IG: beccamerci
Fotos: Instagram.com
Deja tu comentario
También te gustaría