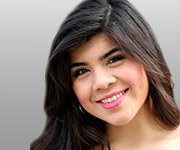 Becca is a vibrant, out-going individual who is passionate about all-things entertainment. From her dedicated radio skills to her television production experience, creating engaging content is what she does best.

Becca was born and raised in LA County and received her bachelor's degree in Radio/TV/Film at Cal State University, Fullerton. Her entertainment career kick-started in 2011 while interning for Spanish Broadcasting System. After much hard work and perseverance the young novice was quickly hired as a board operator, thus leading her to fulfill her dream of becoming an on-air personality. When this free-spirited girl is not on the radio, she's making entertaining social media videos, working freelance for television and music festival productions or working on her clothing line. Her bubbly personality and passion for learning, fashion and music help her create ever-lasting connections and friendships.

Listen to her on Sundays from 6p.m.-12a.m. or check out her comedic sketches on her Instagram @beccamerci.
Becca Merci
MÁS DJ'S