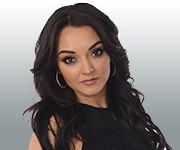 Sandra Peña first stepped into the world of radio in early 2000 interning in promotions at Wild 94.9 in San Francisco. From there she made her way into programming, co-hosting on-air then to her very first full time gig at La Kalle also in San Francisco. Shortly after, she headed out to the southwest to take over the nighttime shift at Power 98.3 in Phoenix, AZ. And now she's at her dream job at LA 96.3, LA's #1 party station.

Sandra has always had a passion for music. Singing since she was just a kid, she knew she wanted to work in music. Having the energy and character she does, and being the chatterbox that she is, radio was the perfect job that became her passion in life.

Sandra loves shopping, music, Miami accessories and all Latin foods, and she has to have her diet soda. Being a young and very proud Latino, Sandra loves representing Latinas in the Industry. Family and culture are very important to her, which inspires her everyday to live beyond her dreams.
Sandra Peña