Pump It Up, ¡Gas gratis para tu Toyota!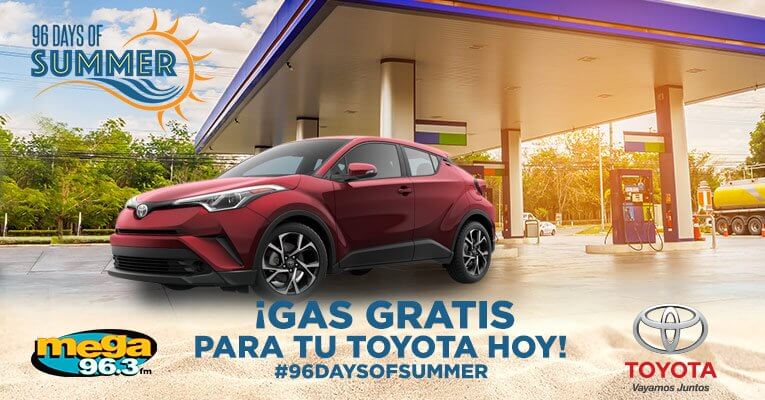 ¡Los 96 Days of Summer de Mega 96.3 fm y Toyota hacen más facil vivir el verano al máximo!
¡Acompáñanos los miércoles en las calles de Los Ángeles, Participa en nuestros challenges  y llena el tanque de tu Toyota Gratis!
6/14/17
Shell  5970 florence ave bell gardens
6/21/17
Shell  9411 washington blvd pico rivera ca 90660
6/28/17
Chevron  11453 valley blvd el monte ca 91731
Our Mega Squad will be filling up the tanks of the first 10 Toyota vehicles to show up! Come and join us on this #96daysofSummer celebration and win incredible prizes.
Turn the summer volume up with Mega 96.3 and Toyota! We love the beach, los callejones, conciertos, carne asadas, y sobre todo, la música!
Look for the mega squad in the Toyota 4-runner all summer long to win prizes as we hit the streets with Toyota Pop Up Parties con live mega DJ's, Mega Parties, y mucho más! Disfruta el verano con Mega 96.3 y Toyota.
Obtén hoy grandes ofertas en un nuevo Toyota en el evento Veraneando de Toyota.
Toyota, ¡vayamos juntos!
Deja tu comentario