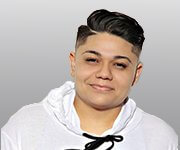 Johanna Martinez AKA DJ 2Lips was professionally established in 2009.
She has worked and resident for multiple venues in Hollywood, West Hollywood, Los Angeles, Long Beach, Pomona, Ontario, and Palm Springs. She also played in Long Beach's largest LGBT festivals for 3 successive years, as well as the Los Angeles Gay Pride festival for 2 years for the Urban Soul Stage and First Caliente Stage.

Johanna's biggest influence was her family that was well rounded with many musical styles.
From all of her influences, she became a bilingual open format DJ.

DJ 2Lips believes that music has always had a way of bringing up the most intense emotions that a person could experience. When starting on a set, she enjoys channeling all the room's emotions into the turntables by understanding a group of people and taking them to the highest level of energy she can bring. She wants to make people feel like they can get away from their troubles or routine and travel down memory lane. She understands the importance of that one special day by elevating those truly memorable moments to the highest level by one set.

DJ 2Lips's goal and focus are to land on the airwaves for an open format on-air radio station.

Musical influences and what she spins include Hip-Hop, Regional Mexican, Latin Tropical, Top-40, EDM, Old School 80s, 90s.
DJ 2Lips