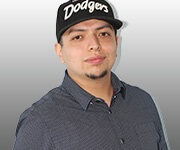 Anthony Mora, also known as "DJ Tony AM" began mixing On-Air for Mega 96.3 in 2015, getting his start on the weekend's with On-Air talent "Mike-E" for "Sancho Sunday's".  In 2016 he went on to team up with Sandra Pena for the Afternoon Drive and Midday Mix, and as of 2018, he's tag teaming your night drive on the 8 O'Clock Workout Mix with Yoli.

Some of DJ Tony AM's notable performances with Mega 96.3, include opening up for Calibash 2016 & 2017, Daddy Yankee Vs. Don Omar Tour 2016, as well as Megaton 2019 Night 1 & Night 2.

You can catch Dj Tony AM in the mix Mon – Fri at 8 PM on Mega 96.3, as well as behind the scenes with Production, producing commercial spots, imaging pieces, and original music to help push the station and Reggaeton movement to new heights.

Being apart of the radio industry for the past 5 years, Dj Tony AM has seen the changes in the demographic and culture within the Latin Music world, and is happy to be a part of a revolutionary movement that will be seen down the line as history in the making.
Dj Tony AM