¡Participa por entradas para CALIBASH con McCafe!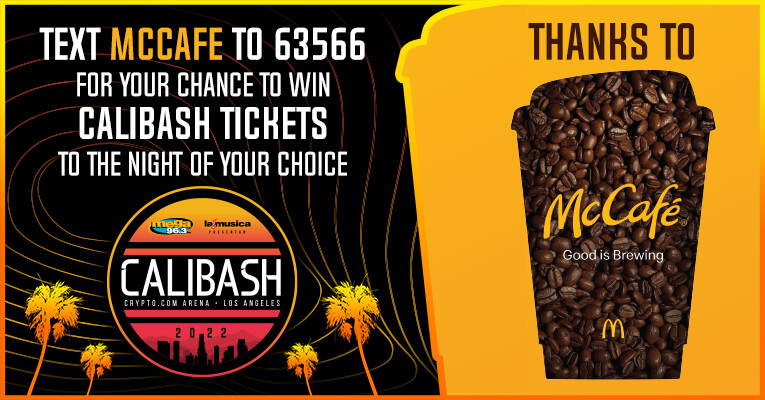 ¡Envía un mensaje de texto con la palabra "McCafe" AHORA! al 63566 para la oportunidad de ganar un mejor boleto a Calibash para la noche que tú escogas! A los ganadores les encantará la gran final de CALIBASH de este año, traído a usted por McDonald's del Sur de California.
Message and Data Rates May Apply. Text Stop to 63566 to Unsubscribe. Text Help to 63566 for Help. Mobile T&C/Privacy Policy at https://mega963fm.lamusica.com/reglas-generales
KXOL Contest Rules CALIBASH TICKETS Text to win
bile Terms and Conditions for Mega 96.3FM Mobile Sweepstakes Program
The short code 63566 is used by Mega 96.3FM for this text-to-win program. You may opt-in by texting the keyword "MCCAFE" to 63566. When you sign up for a messaging program administered by Mega 96.3FM by providing your mobile number or texting a keyword in response to an offer, you are providing your express written agreement to receive mobile alerts, offers, updates on products and services, polls and sweepstakes, and any other messages described in the program offer at any phone number you designate or use to opt-in to the program. You agree not to designate or use a number for a wireless account you do not control to opt-in to or join a messaging program.
You will receive a maximum of 2 messages per week per messaging program. Message & Data Rates May Apply. For additional information, text HELP to short code 63566. You may opt-out at any time by sending STOP to short code 63566.
Also, you can contact us at 310-229-3200 or SBSlaconcursos@sbslosangeles.com
Message delivery is subject to effective delivery from your mobile carrier. We will not be liable for any delays in receipt of any SMS or MMS messages that are caused by delays from your mobile carrier or any other conditions outside of our control.
Supported carriers are AT&T, U.S. Cellular, Verizon Wireless, Sprint, Cricket, Boost, Nextel, and T-Mobile.
PRIVACY POLICY
Mega 96.3FM takes your privacy seriously! Mega 96.3FM does not rent, sell, or share personal information about you with other people or nonaffiliated companies. We only use your information for the intended purpose of helping you engage with the brand or organization you subscribed to. In addition, we may use the information collected for the purpose of research, development, reporting and analytics without sharing any personally identifiable information. We have physical, electronic, and procedural safeguards to ensure protection of your information.
Deja tu comentario