DJs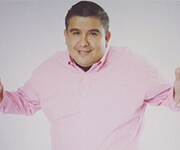 Ernesto Martinez also known as "Smoochy" is an On Air Personality for Mega 96.3. Smoochy was born in California but spent his early childhood in New Orleans, Louisiana. Around 1998 he started his career in radio, interning in promotions for one of the top radio stations in Los Angeles. With a strong interest in the entertainment industry, he also had the opportunity to work as a freelance reporter. As a reporter he covered major red carpet events throughout the Los Angeles area for Telemundo. In 2002 he had the pleasure of interviewing major artists such as Daddy Yankee and Romeo Santos. Among these artists he has also interviewed Sandra Bullock and Benjamin Brat.

Smoochy's passion for music started when he would dj parties and family events. It was at that time he knew he wanted to be an on air talent.

He also enjoys spending time with his daughter and son. On the weekends they are active in soccer and swimming.

Make sure to catch him on your air waves on the Mega Morning Show on Mega 96.3 FM

You can now follow Smoochy on Instagram @Smoochyone or Snapchat @smoochyone1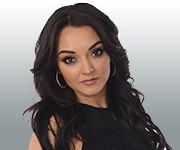 Sandra Peña first stepped into the world of radio in early 2000 interning in promotions at Wild 94.9 in San Francisco. From there she made her way into programming, co-hosting on-air then to her very first full time gig at La Kalle also in San Francisco. Shortly after, she headed out to the southwest to take over the nighttime shift at Power 98.3 in Phoenix, AZ. And now she's at her dream job at LA 96.3, LA's #1 party station.

Sandra has always had a passion for music. Singing since she was just a kid, she knew she wanted to work in music. Having the energy and character she does, and being the chatterbox that she is, radio was the perfect job that became her passion in life.

Sandra loves shopping, music, Miami accessories and all Latin foods, and she has to have her diet soda. Being a young and very proud Latino, Sandra loves representing Latinas in the Industry. Family and culture are very important to her, which inspires her everyday to live beyond her dreams.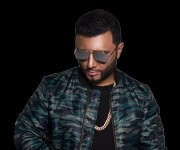 Alex Sensation, known as New York City's top Latin DJ, works for the Hispanic radio station with the highest ratings, La Mega 97.9 FM. Alex Sensation (as he is artistically known) is multicultural, charismatic and extremely energetic. He appeals to a broad audience that includes various nationalities.
Among his many accomplishments as a prominent DJ and radio personality, he received an ACE Award, and has been the face of Dennon DJ Equipment. Alex, also DJ's five nights a week throughout New York, New Jersey, Connecticut, Massachusetts and Long Island, just to name a few. In addition, he has two #1 mix radio shows in the #1 market in the country: "La Original Mega Mezcla" and "La Mega Mezcla Sábado en la Noche" both on La Mega 97.9 FM. He also has played to sold-out crowds at the Madison Square Garden, Izod Center, Nokia Theater, and the United Palace, among others.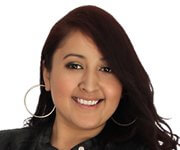 Yoli is a SoCal native with a passion for all things pop culture. Her career in the entertainment industry began in 2014, when she interned for the audio production department at SBS Los Angeles. Quickly, she learned the ropes of the business, which landed her a job as a Board-Op for KXOL-FM. When she is not On-Air at Mega she is busy writing articles, covering red carpets, and other exclusive events in the LA area. Yoli's music taste vary from reggaeton's new king, J Balvin, to pop royalty, Justin Bieber. (Pre "Sorry" remix) Yoli is dynamic, determined, ambitious and most importantly a well-rounded educated Latina. Make sure to catch her on your airwaves weeknights 7-midnight only on Mega 96.3 FM.​

You can now follow Yoli on Instagram @Yoliradio and Twitter @_Yoliradio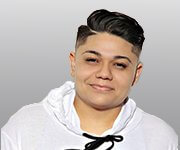 Johanna Martinez AKA DJ 2Lips was professionally established in 2009.
She has worked and resident for multiple venues in Hollywood, West Hollywood, Los Angeles, Long Beach, Pomona, Ontario, and Palm Springs. She also played in Long Beach's largest LGBT festivals for 3 successive years, as well as the Los Angeles Gay Pride festival for 2 years for the Urban Soul Stage and First Caliente Stage.

Johanna's biggest influence was her family that was well rounded with many musical styles.
From all of her influences, she became a bilingual open format DJ.

DJ 2Lips believes that music has always had a way of bringing up the most intense emotions that a person could experience. When starting on a set, she enjoys channeling all the room's emotions into the turntables by understanding a group of people and taking them to the highest level of energy she can bring. She wants to make people feel like they can get away from their troubles or routine and travel down memory lane. She understands the importance of that one special day by elevating those truly memorable moments to the highest level by one set.

DJ 2Lips's goal and focus are to land on the airwaves for an open format on-air radio station.

Musical influences and what she spins include Hip-Hop, Regional Mexican, Latin Tropical, Top-40, EDM, Old School 80s, 90s.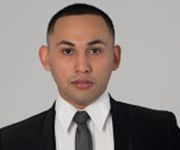 Alex Perez, graduated from CSB Broadcasting School in 2008. While having a full time job he also made time to attend broadcasting school and work hard in building up his career advancement in the entertainment industry. In 2010, he began his radio career as an intern and quickly jumped on the opportunity to freelance for SBS Entertainment- Spanish Broadcasting Systems, a profoundly known Latino department that emphasizes in concert production. Alex has played a mayor role and participated working behind the scenes in big concerts and events like Calibash, Spring Break Bash, just to name a few.

Alex being so passionate for his career took advantage of an internship position in the summer of 2010 with LAtino 96.3fm Learning the full fundamentals of behind the radio scenes from board operating to show production, Got hired early 2011 as a Street Team member caring a huge role representing the station to its fullest at station events, Remotes and assisted as Morning show Board Operator.

As he continues to strive for his career, now 2016 you can view his blogs on mega963fm.com and also catch Him on radio airwaves through Mega 96.3fm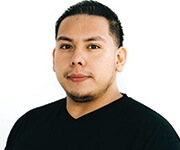 *Producer/ Remixer / Engineer
Matrixsessions LA
The Los Angeles Recording school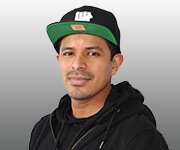 Dj iRony is one of Los Angeles's hottest rising talents, already making a name for himself as a heavy-hitter in all genre of music. This rising star discovered his love for music as a young child listening to records in his garage. His participation as a trumpet player in his high school's band reinforced iRony's appreciation for music, particularly, funk, jazz, house, and Hip-Hop, further fueling his desire to creating his own original music.

Eventually, iRony replaced his trumpet for turntables, and evolved into an open format DJ, gracing the decks at just about every LA hotspot. After refining his turntable skills, iRony's musical style transitioned once again – this time from playing songs to Producing and Remixing his own music. He's quickly gained notoriety for his Remix's as they add flare and energy to his sets. Don't let this short appearance fool you DJ iRony is a straight monster on the turntables.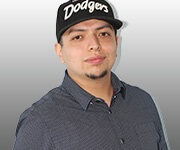 Anthony Mora, also known as "DJ Tony AM" began mixing On-Air for Mega 96.3 in 2015, getting his start on the weekend's with On-Air talent "Mike-E" for "Sancho Sunday's".  In 2016 he went on to team up with Sandra Pena for the Afternoon Drive and Midday Mix, and as of 2018, he's tag teaming your night drive on the 8 O'Clock Workout Mix with Yoli.

Some of DJ Tony AM's notable performances with Mega 96.3, include opening up for Calibash 2016 & 2017, Daddy Yankee Vs. Don Omar Tour 2016, as well as Megaton 2019 Night 1 & Night 2.

You can catch Dj Tony AM in the mix Mon – Fri at 8 PM on Mega 96.3, as well as behind the scenes with Production, producing commercial spots, imaging pieces, and original music to help push the station and Reggaeton movement to new heights.

Being apart of the radio industry for the past 5 years, Dj Tony AM has seen the changes in the demographic and culture within the Latin Music world, and is happy to be a part of a revolutionary movement that will be seen down the line as history in the making.